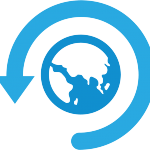 Did you know that March 31st is World Backup Day?
Regular and reliable backups are a crucial part of any business. Ace Computers can set up online backup for your business.
Here are some statistics that show the importance of backups:
60% of companies that suffer from major data loss without backups shut down in six months (Boston Computing Network).
113 phones are lost or stolen every minute (Lookout Mobile Security)
90% of IT decision-makers believe that their data is vulnerable in a disaster (Mission Mode).